To date (i.e. May 2020), arthritis is not a predisposing disease to COVID-19 infection.
Some of the medications that are prescribed, if you have arthritis, are thought to increase the risk and severity of COVID-19 infection i.e. immunosuppressive medications such as corticosteroids, and chemical and biological disease modifying anti-rheumatic agents.
Please refer to the Guide to Social Distancing for Rheumatology Patients from London as this flow chart describes the necessity for shielding, strict social and standard social distancing. However, whichever arthritic disorder people have, they simply need to be sensible with regard to risk assessment of situations where they may contract the infection.
Currently, drugs such as Paracetamol, and NSAIDs (non-steroidal anti-inflammatory) such as ibuprofen, are safe to use at any time, but only take these medications at the required strength and only if/when necessary.
Predisposition to COVID-19 infection:
The following are currently thought to be predispositions:
- Gender – more males
- Age – higher risk as you get older
- Ethnicity – BAME (Black, Asian and minority ethnic)
- Hypertension
- Cardiovascular disease
Major current trial:
Randomized evaluation of COVID-19 therapies: aka recovery
Led by Oxford University and funded by the National Institute of Health Research
Trial approved (11/03/20) and 6000 patients enrolled (20/04/20)
Initial data expected approximately June 2020.
It is important not to take any medication that has not been subjected to a randomized controlled trial e.g. there are rumours that hydroxychloroquine (Plaquinil) is an effective treatment and currently the observational studies would indicate that this medication may do more harm than good.
Facial masks/covering:
The jury is out with regard to whether the general population should wear some form of facial covering. In Germany it is now compulsory to wear masks when travelling on public transport, however, it is unlikely that this will be adopted in the UK. The overall consensus is that there is no reason why you should not wear a facial mask when out of the house, but it may be uncomfortable!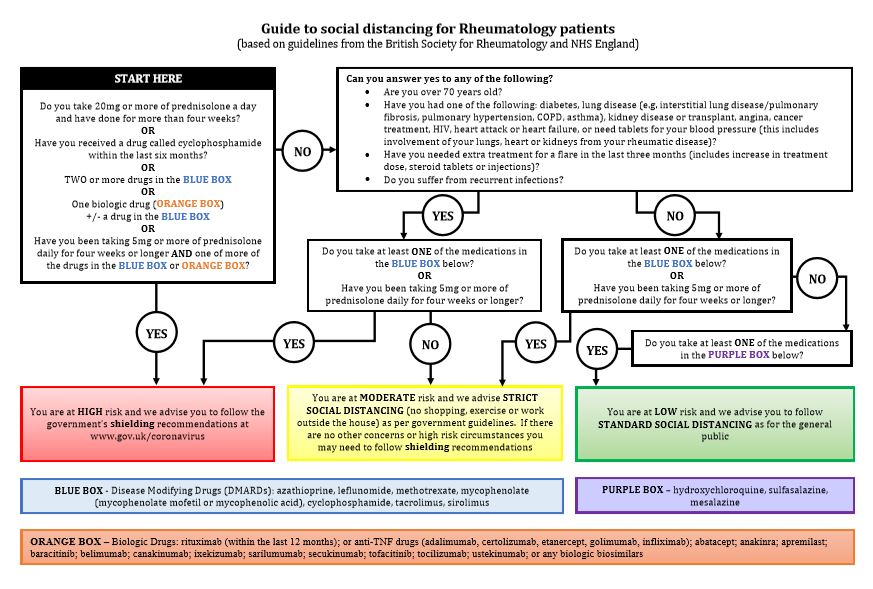 If the above image doesn't load, please follow this link for LRC's guide to social distancing for Rheumatology patients (based on guidelines from the British Society for Rheumatology and NHS England): LRC Guide to social distancing for Rheumatology patients