The London Rheumatology Clinic supports the following charities:

Alzheimer's Society
www.alzheimers.org.uk
Autistica (annual)
www.autistica.org.uk
Charlie Sumption Memorial Fund
www.csmf.co.uk
Child Action Nepal
www.childactionnepal.org.uk
Crisis (annual)
www.crisis.org.uk
Doctors of the World
www.doctorsoftheworld.org.uk
English National Opera
www.eno.org
Garsington Opera
www.garsingtonopera.org
Level Water Charity
www.levelwater.org
St Paul's Cathedral (annual)
www.stpauls.co.uk
Médecins Sans Frontières (annual)
www.msf.org.uk
Midlands Doctors
www.midlanddoctors.org
Opera Holland Park
www.operahollandpark.com
Orbis (annual)
www. gbr.orbis.org/en
Royal Marsden Cancer Charity
www.royalmarsden.org
St Raphael's Hospice (annual)
www.straphaels.org.uk
---
CHARITABLE ACTIVITIES
The 2.6 Family Challenge for the NHS: Sponsor the Axford Burrell Dodson & Hegarty Team
Hello Lovely Friends and Family,
We would all like to send you a huge thank you for your generosity in supporting our family challenge in aid of the NHS Charities Together.
We had 77 fabulous donors, some anonymous, and raised over £4000. We are fully aware that you are all inundated with requests to help at the moment, so we are really grateful.
Believe it or not, we actually had a lot of fun participating and it was joyous for us to witness, in particular, the oldest, Great Grandpa Peter doing his 26 steps each day in Virginia Water, pushing his wheelchair, and the youngest, Ottilie, doing her first 26 steps pushing her little cart in LA.
We all send love and thanks from the bottom of our hearts.
GO NHS GO!
Peter, John, Carolyn, Minna, Charlie, Finn, Oscar, Lucy, Nathan, Rex, Hux ,Rosie, Tim and Ottilie.
PS We are thrilled to announce that Lucy and Nathan are expecting baby number 3 in November. Due to horrible morning sickness Lucy didn't quite manage her 26km run, but she tried! However, she did manage to complain to Nathan 26 times a day for 26 days straight! She is now back to normal and raring to go!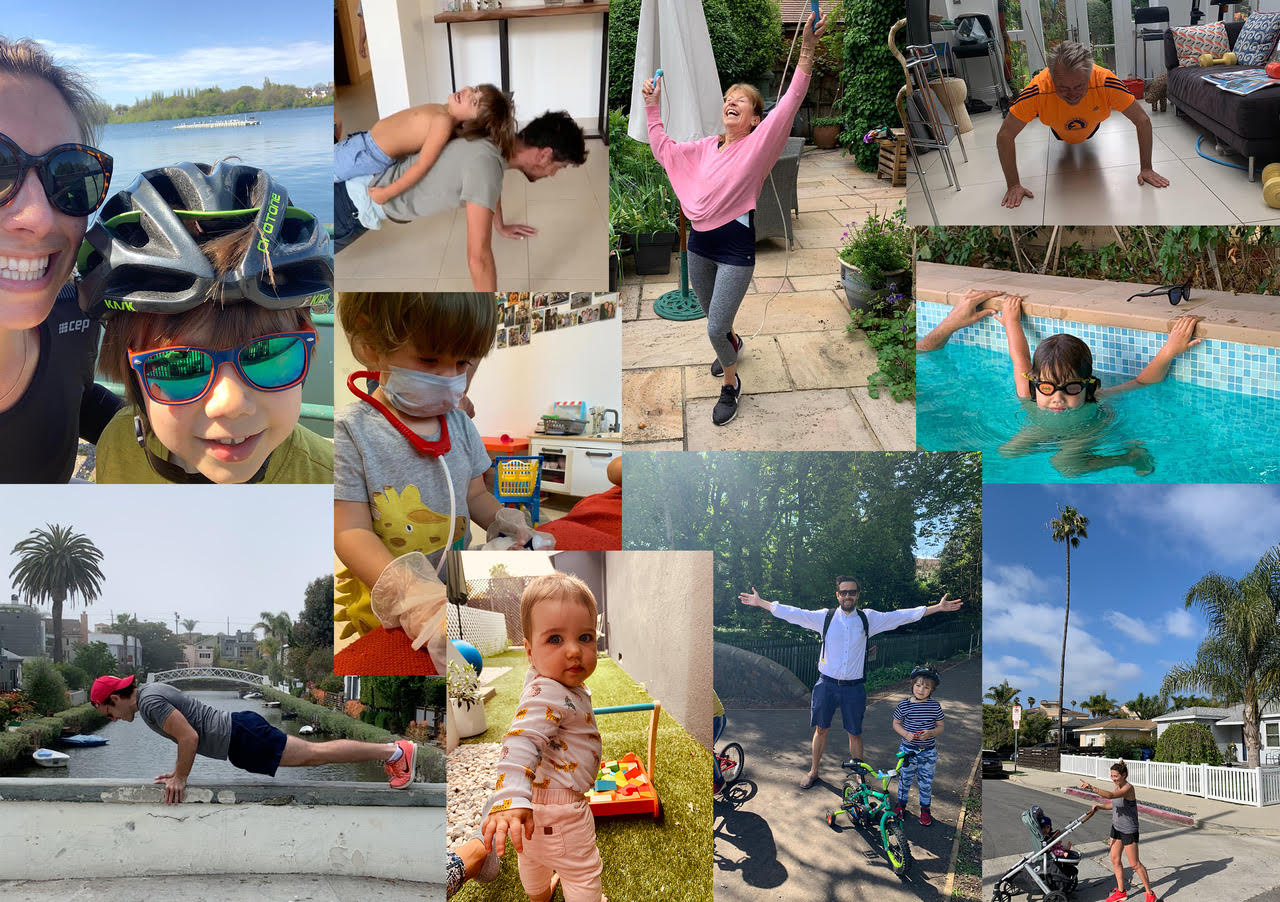 ***
Original Post:
Team Axford Burrell Dodson Hegarty comprise of 13 fit and able athletes (some more than others) in all shapes and sizes! We love the NHS. They have looked after us ALL. John worked for them for 30+ years and right now they are on the front line risking their own lives to help and save others.
Thousands of fundraising events have been cancelled due to the pandemic. This includes the London Marathon which should have been on Sunday, 26th April 2020 but has been postponed. To take its place is THE 2.6 CHALLENGE; a national initiative to raise vital funds to help save the UK's Charities.
We have decided to take on The 2.6 FAMILY Challenge. We have nominated one another to take on a challenge this week involving the number 2 and 6. We will be walking, running, cycling, skipping and somersaulting our way through the week all to raise money for the NHS Charities Together campaign.
Please visit our JustGiving page HERE to sponsor us and please join in and nominate a member of your own family to complete a 2.6 challenge and sponsor them here too!
Here is what we will be doing…
Great GrandPa Peter ­- 26 steps each day
Finn – cycling 26km total this week
Oscar – 26 somersaults on the trampoline
Rex – swimming 2.6 lengths in the pool on his own
Huxton – donning 26 fancy dress costumes
Ottilie – walking 26 steps with walker
John, Charlie, Nathan and Tim will be showing Joe Wicks up by completing 260 press ups and/or cycling, walking and running 26 miles this week
Carolyn ­- skipping 2600 skips this week
Minna, Lucy and Rosie – walk/run 26km this week
There will be video evidence made available especially of John's attempt to do a press up!
So, please support us in any way you can by donating HERE
Team Axford Burrell Dodson Hegarty xx